Freeze Weather Alert Warning in Katy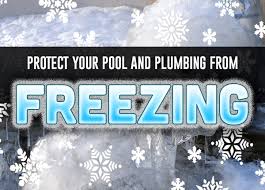 FREEZING WEATHER ALERT!
Our team at Katy Pool Techs LLC wants to alert our clients about the freezing weather conditions that will be taking place in the Katy area from January 1st through January 5th.  An arctic cold snap will hit Katy tonight bringing with it temperatures that will drop below freezing and into the twenties for the next few nights.  I know the local news has been talking about the four p's - pets, plants, pipes and people, but as Katy Pool Tech customers you need to include a 5th p - your pool.
What to do to protect your pool during a hard freeze?
We recommend running your pool equipment overnight (each night weather goes below 28 degrees) (No need to turn on heater, just main pumps).
Pool manual and auto fill lines should be wrapped and set to a slow drip to keep water running.
If your pool has a freeze protect system, make sure it is on.
Maintain proper water level at ALL times.
Spray heads should be put on very low (about 10-30% operation) so they do not freeze.
1 1/2" and 2" plumbing is not usually the problem, the 1/2" and 3/4" plumbing is usually what freezes.
Remember to cover ANY hose connections around the house.
Never backwash during extreme cold. (Pressure gauges can freeze).
These are just a few steps to help you protect your investment.  If you run into issues, please feel free to text us at 832-788-7665.  We are here to assist you.  Thanks and Happy New Year from Katy Pool Techs LLC.